www.HealthyHearing.com
Tinnitus
Last updated on: September 26th, 2023
Understanding the symptoms, risk factors, causes and treatments is important to managing tinnitus.
Tinnitus is defined as a ringing or buzzing in the ears. Tinnitus is subjective, meaning you can hear it, but other people can't. About 1 out of every 10 Americans has tinnitus, and it's especially common among U.S. veterans. Among older adults, survey data shows that 1 out of every 5 reported having tinnitus.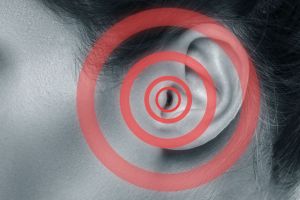 Symptoms of tinnitus: Why do my ears ring?
A persistent ringing, buzzing, or whirring sound can indicate tinnitus. It can be loud or soft, intermittent or steady. You may feel like you have "ringing in the ears" or that your head is full. But tinnitus symptoms are different for every person. For some, tinnitus seems to get louder at night, just before sleep when no other sounds are competing with it. Tinnitus can remain constant or come and go intermittently. In severe cases, the ringing in the ears is loud enough to interfere with work or daily activity, whereas those with mild tinnitus can experience soft ringing that is no more than a minor annoyance. You may also experience tinnitus spikes.
Causes of tinnitus
While the underlying cause of many cases of tinnitus is never discovered, there are some common risk factors, which include aging, loud noise exposure, certain unhealthy habits, and many different health conditions, such as high blood pressure.
How can I make my ears stop ringing?
Although there's no proven cure for tinnitus, there are many different treatments that help make it easier to ignore. For example, because tinnitus is so common among people with hearing loss, properly fitted hearing aids can help tinnitus. Modern hearing aids not only come with tinnitus masking features, they also help "retrain" the brain to focus on desired sounds, known as sound therapy. Bringing sound back to your brain through the use of hearing aids may help distract it away from listening to your tinnitus. In other cases, tinnitus treatments can include medications.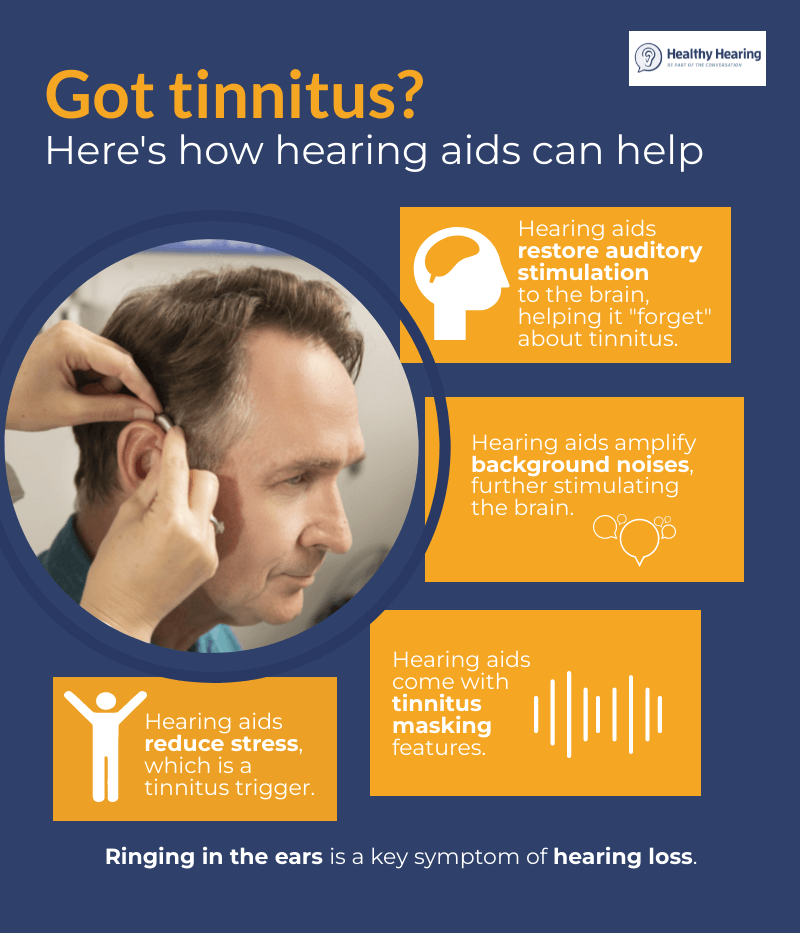 People with tinnitus often view their suffering as a common part of everyday life they learn to cope with. Because many cases of tinnitus aren't severe enough for medical treatment, some people turn to alternative therapies for finding relief.
Many people find improving their overall health provides some comfort from tinnitus symptoms. This means controlling your blood pressure, reducing stress and decreasing caffeine consumption. Other tinnitus relief strategies include cognitive behavioral therapy, relaxation exercises, meditation and visualization.
Habituation and other methods
Another treatment option is called tinnitus retaining therapy (TRT), and it is designed to teach you to ignore the background ringing noise in the ear, known as habituation. In addition to counseling sessions, a white noise generator is used to create environmental sounds to override the tinnitus.
In rare cases, tinnitus can feel overwhelming to your daily life and may lead to suicidal thoughts. Find out more on why this happens, and what you can do about it by reading tinnitus and suicidal thoughts.
Is it Meniere's disease?
Meniere's disease isn't directly connected to tinnitus, but people with Meniere's often experience it, at least temporarily. Meniere's disease is an inner ear disease that typically only affects one ear. This disease can cause hearing loss, pressure or pain in the ear, severe cases of dizziness or vertigo and a ringing or roaring tinnitus. While Meniere's isn't fully understood, it appears that several relief options for tinnitus can also help with this disease. Patients are often advised to reduce stress and lower their consumption of caffeine and sodium.
What if my doctor doesn't take me seriously?
Tinnitus in and of itself is not life-threatening. However, because side effects can include mental distress, insomnia and other negative impacts, tinnitus should be taken seriously by your healthcare provider. If you feel your doctor is dismissing your tinnitus, seek a different provider.
Mental health care can be an important part of proper tinnitus treatment, so contacting a therapist or psychiatrist also is recommended if tinnitus is making it hard to cope. There are many providers who specialize in helping patients cope with tinnitus.
Getting help for tinnitus
If you have tinnitus, you might be feeling frustrated and helpless, but there is hope.
The first step is to consult a hearing care professional for a thorough check of your auditory system. Your doctor may recommend you see an audiologist who specializes in diagnosing and managing tinnitus. Visit our directory of hearing care providers to find a hearing clinic that can perform tinnitus testing near you. Please note that not all hearing clinics treat tinnitus, so you may need to browse several clinic pages to find the right provider.